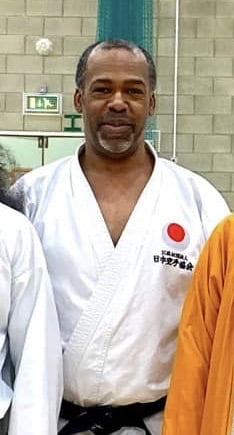 Sensei Brian Williams 3rd Dan, started his karate journey in 1987. his training began with KUGB/JKA under the renowned Sensei Roy Watkins. he trained hard and passed passed his 1st dan black belt examination in 1996. then due to career commitments he took a break from training in 1997. in 2011 during the summer holidays sensei Brian's sons took up karate and watching them training was the spark to reignite his love for the art, he was in his Gi training the very next class. in 2012 sensei Brian took and passed the JKA/EKF Coaching exam at the prestigious International JKA Annual Spring Course.
Sensei Brian trains regularly with sensei Adel Ismail (6th Dan). in 2015 under the tutelage of sensei Ismail, sensei Brian Passed his Nidan (2nd dan) grading. Then in 2018 Sensei Brian passed his Sandan (3rd Dan)
in 2017 Sensei Brian entered the mens veterans category at JKA England Open championships, he fought his way threw the rounds defeating a JKA Ireland National team member to become the JKA England Open champion, Brian successfully defended his title 3yrs in a row before retiring from competition in 2020
Qualifications:
JKA/EKF Coaching license
Enhanced Disclosure check (DBS)
Child welfare & safeguarding course certificate
First aid Training
JKA International Instructors License D
Sensei Williams is very popular with students at the Club, his patience when teaching is demonstrated at every lesson, he is very hard working and an asset to the Club. He is currently working towards his Judges & Referees JKA License.